Letters 1997 – 1999

 
Mullaghgloss, Renvyle
County Galway
Dec. 1997
Dear Hildegard and Jürgen –
        I am sorry I have left it for too long to reply to your letter of August 25th. Many thanks for the lovely photographs which I have given around. If you have some left I would be glad if you could spare one or two for two of my daughters who would be delighted to get them. Go raibh míle maith agat!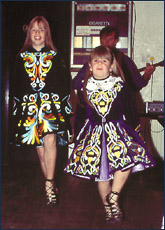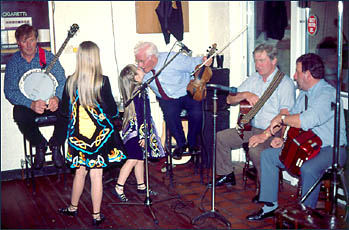 The photos: Johnnie and his grandnieces. Angler's Rest, Tully Cross, June 1997
We played for some time after you went home, but things were not the same. Clifden falls to pieces when the visitors go, and we loose interest in playing. I haven't been too well at times, Hildegard. I probably drank too much whiskey one night, and next day I had a very severe pain when I went to the toilet. We have a lady doctor here and I didn't fancy going to her. But in the end I had to go, and after some time she fixed me up o.k. I should have gone much sooner.
Then the chest gave me trouble. I am a fairly heavy smoker, and playing in the pubs is a smoky business at times. But I feel good now and will play over the Xmas. I hope this will find you both very well, and I hope too you will have a very happy Christmas.
I see some Christmas letters coming already. But Christmas is not the same as it was when I was young. It's all for making money now, and it takes away all the wonderful joys we experienced in our young days. The youth to-day have too much all the time.
What more can I tell you from this area? Nothing, I guess, because nothing exciting happens here. Only rain and more rain. Well, I'll finish for now.
Thanking you both once again. God bless you. Take care. Le beannacht agus grá agus Nollaig bhreá. — From Johnnie, Margaret, Pat and Gerard.


 
Mullaghgloss, Renvyle
County Galway
April 1998
Dear Jürgen and Hildegard –
        Thank you so much for going to so much trouble in getting the photographs and then sending them on to me. I hope you both are very well. We here in the west are pretty good. Our weather at the moment is a mixed bag of rain gales and the odd sprinkle of snow.
You asked me, Jürgen, about Kieran, Pat and Gerard. I'm sending you a photograph taken in Barry's Hotel Clifden on the night I received a presentation from the Arts Council for 50 years contribution to Irish culture, drama and music. The family and myself never realised it would be such a memorable night. No one had a camera – and Pat had a video camera but didn't have it with him. So I got this one picture from the press cameraman. I haven't even a negative.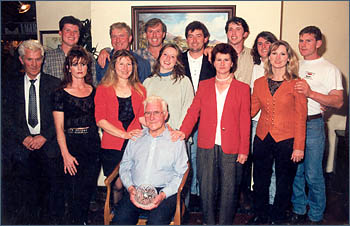 Johnnie receiving the award and his family
Well, this is all I can think of. Sending our best wishes and good luck to you both. God bless. You might drop me a line before you come to Ireland. — From Johnnie and all the Gang.


 
Mullaghgloss, Renvyle
County Galway
November '98
Hello Jürgen and Hildegard –
        I am both remorseful and ashamed that I have not written before now, and I want to thank you sincerely for your lovely gift and letter. This CD [music by the Renvyle Comhaltas Group compiled from old tapes] will bring back memories, some fine memories of the times we had making those two tapes. I would have written sooner, Jürgen, but my eyes have been giving me a lot of trouble. But now I got some good drops, and I can see pretty good again.
I was 78 years old on the very day the CD arrived, and I thought what a wonderful gift. There was no celebration or pub crack, Jürgen, because of the gales and rain, and the power was off and no light or heat. But all the family called around and we had some laughs.
Frank and Rose are gone to Switzerland to visit their son who is married out there. So I have taken Frank's place with Kieran in Molly's, Letterfrack, and the Angler's Rest in Tully Cross. Then I went to Leitrim with Kieran for a week-end to play in a pub called 'Gerties'. It is owned by a friend Kieran and Frank had when they were in England, and they remained in touch. He came to Clifden last year before we finished up there, and they planned the week-end for the end of September.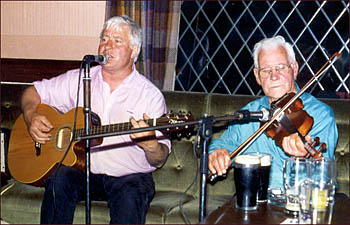 Music session with Johnnie and his son Kieran, 1998
I found the Leitrim people very friendly. They have a great sense of humour and are full of wit. But the countryside is very desolate and the land so poor. Only rushes there, trees, and water. I was told it has the highest suicide rate in Ireland. But the three or four Leitrim lads who worked with Kieran and Frank returned to their native place and vowed to do something for the area. So they drew up a plan to reopen the overgrown and defunct canals and waterways, and eventually they got a fifteen million pounds grant. Now there is a thriving tourist business, and people come from Dublin and as far away as Enniskillen. So instead of busses and coaches cruisers and other luxury crafts are arriving. It has put the unknown area on the map, and from that other projects have sprung all around the place.
Well, our TV for the past week has been all about World War One and Two. I had four uncles, two from my father's side and two on my mother's, conscripted in America and sent to the front. They all came back alive.
There is no news locally, Jürgen. All the worry is how to provide fodder for the cattle for the winter. I must show Michael O'Neill the CD, Jürgen, I know he will be surprised. He was the producer of the tapes.
Well, this is all for now, and thank you again so much. Take care. God bless you both always. — From Johnnie and Margaret and Clan.


 
Mullaghgloss, Renvyle
County Galway
January '99
Dear Jürgen and Hildegard –
        I hope you both are very well. We here are well after the worst hurricanes in memory. Tully Village was like it had an air-raid. There were slates and mobile homes and cars all over the place. We ourselves didn't have any damage, except for ewe sheds and down-pipes. The worst of all was that there was no light, candles all over the place! We had some trees down and there was also heavy rain.
Frank was in the north of Ireland, and he said there was awful damage done there. A young Mayo lad and his girlfriend home from England came to Leenaun. He thought it a nice place to propose and to give his girl the engagement ring. Half an hour later he was killed by a falling tree while driving home to Mayo. His girlfriend escaped with some scratches.
The weather is still very bad. To sum it all up, Jürgen, we had no Xmas or New Year. All people thought about was the awful damage. Now another thing is coming along. A bad flu has hit England an now reached Ireland. The old and the very young are the worst hit.
The pubs are very quiet now and they have lost a lot of trade over Xmas and New Year. No light or heat, and then people stayed at home. I didn't go out at all except to Mass.
I suppose your weather is not too good either. Still there is hope that spring is not far away, and I see young shoots coming over-ground already.
There is nothing to write about from here. So I wish you and Hildegard the very best for the coming year. Sorry I couldn't write sooner, but I will make up for that in the year ahead. So take care and God bless you always. – From Johnnie, Margaret and Clan.


 
Mullaghgloss, Renvyle
County Galway
February '99
Dear Jürgen and Hildegard –
        I hope you both are well. Everything here is fine now after the hurricane. The flu sweeping through Britain didn't spare us. I was sick for two weeks, and Margaret was sick too. Five women from Clifden died. It was very bad, but now it has passed on, thank God. The birds are singing in the mornings, the days are getting longer, and the grass is beginning to grow; so there is hope that the coming months will be better for everyone.
An old friend who was in the Army during the war died last week. His family asked me to play for his funeral mass, which I did even though I was sick. I took the chance, but I didn't go to the graveside.
I have two favours to ask you, Jürgen. No 1: I have an old photograph taken 57 years ago which is battered. Could you do a job on it and make it bigger? No 2: Could you send me another CD or even two, the CD you have compiled from the old Renvyle Comhaltas tapes? No 3: IMPORTANT. You must agree that I pay you for all this either before you leave Germany or when you come to Tully Cross. If you agree I will send on the photograph.
Kieran and Frank play three nights a week all the time. The cottages are now occupied by students from Aquinas College, Michigan, USA – good for the pubs across the road.
Well, Jürgen, there is nothing more I can tell you from here. I hope your trip to Dublin won't disappoint you and the weather will be fine. I think the biggest thing that has happened here in 60 years is that I have quit smoking. How long I can fight the urge is everyone's guess, but I pray that I will have the will-power to fight the urge. Say a prayer for me! I will write again soon.
So I'll wrap this up for now. God bless, take care! – Yours as always, Johnnie


 
Mullaghgloss, Renvyle
County Galway
March '99
Dear Jürgen and Hildegard –
        Céad míle buíochas daoibh as do litir agus na CDs. I am well, and I hope this finds you both in perfect health and happy.
St. Patrick's Day was very quiet here. The day itself was beautiful, and the people went to Clifden to have a meal and watch the parades go by. A great many even went to Galway City, where, so they say, it was very nice. The pubs here had very big crowds too, a lot were visitors from outside.
I got a bit drunk, Jürgen, I must admit. My brother Paddie was with me, and along with drowning the shamrock he was also trying to drown his sorrows. His wife Nora is in St. Lukas Hospital in Dublin where she had an 8 hour operation. Paddie is really shattered and missing her very much. They were always to-gether, and some people called them 'Darby and Joan'. That's an old popular song, once sung by a Joan:
I had a good laugh when I read your comments on our new Irish-German currency exchange rates 'Guinness'. When you suggested me to pay for the CDs with a pint of Guinness it was the best currency ever invented, but I'm afraid that arrangement will never compensate your trouble, not to mention time, material and postage. We will see.
When you come back in June, Jürgen and Hildegard, I will have so much of the 'Story' written for you to take it back to Germany. Then you can tell me if I should carry on and finish my memoirs. And when I have finished it you can do with it what ever you really want, for your own use or whatsoever. OK?
There is nothing from here to interest you. The weather is getting milder, but it's still very fond of the rain. I'm just after getting a letter from my son in England, and he and his family are well. Yesterday (Sunday) I had a visit from another son, Paul, who lives near Galway. His wife is English and a nice girl too. They have no family. So I have more writing to do now.
Did I tell you, Jürgen, that I stopped smoking? Well, I'm still off the cigarettes, but I do really miss them. I have mood swings now and then, and when drinking a pint of Guinness on a Sunday it's hard not to smoke. That is the real test. But with God's help I will find the willpower to fight the habit. Healthwise I find no particular change yet, but it's too soon to expect a miracle to happen.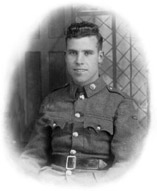 If the photo enclosed to this letter is too far gone to do anything with it, just scrap it. It is over 57 years old and turned up later. But that is another story.
I am glad that you enjoyed your trip to Dublin. It was nice that you saw the Big Fellow's grave. That was the saddest time in our history when one Irishman shot his fellow Irishman, and sometimes men that fought the common enemy to-gether. That was England, and it was the same all over the British Empire. When they pulled out they left bitterness and hatred. Their motto: Divide an conquer!
Well, Jürgen and Hildegard, I'll finish for this time. I must go now and feed the cows for to-night and then bring in the turf. Such silly things to be telling you, Jürgen, but it all helps to complete the letter. Hope to hear again from you soon. God bless you both and take care. — Best wishes from Johnnie and Margaret.


 
Mullaghgloss, Renvyle
County Galway
April 28th '99
Hello Jürgen, and hello Hildegard –
        A thousand thanks for your letter, the restored photo and also for the fine compliments for my writing which I really don't deserve. Well, there is no news from here to interest you, except that I played a session with Kieran and Frank at 10.30 a.m. in Leenaun Village for a TV crew from Australia. They stayed there for a whole week. I don't know what the film was about, but we enjoyed our part which was to play for a dance in Gaynor's Bar. There was only one Leenaun lady who took part in it, all the rest were Australians. It was a free for all, but it was funny with pouring rain outside and pouring Guinness inside.
Then the cameras and all the gear was packed away in giant vans, and the trucks and the film crew headed for County Clare. Then the locals began coming in. There was a big bog fire burning, teas and sandwiches were served all around the place, and we continued to play until well into the afternoon. Last Sunday I played for a christening in Tully Cross, and that's all about sessions so far. It's marvellous what can be done in our age! The session in Leenaun was beamed to Australia that evening, and we were listening to it next morning on Radio West. It's hard to believe, but it's true.
I must have a sample of my story ready when you come back in June, Jürgen, so that you can tell me if it's worth carrying on with it or not, but in any case it will be for you and Hildegard. I hope that you are both well and happy.
I wish my letter could be longer and more interesting, but now I must go and get the fodder for the cows and have turf for the night. So once again I will say God bless you both. All our good wishes, and take care. — Your friend Johnnie.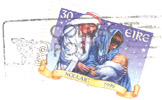 Mullaghgloss, Renvyle
County Galway
December '99
Hello Hildegard and Jürgen –
        Thank you for your letters and greetings. I haven't been well for this past months, but I won't bore you with details. For some time I didn't know why I felt drunk every day. I don't like visiting the doctor, but in the end I had to go. She said I have an under-active thyroid and gave me a 100 little tablets to take one each morning. First I did not take them regularly and she was mad at me, but now I do.
I'm not complaining. My brother Paddie has cancer and his wife Nora is over an operation. So why should I complain? I will make up for my lack of correspondence in the coming year, and do forgive me. I will be on track again.
May the joy and peace of Christmas be with you now and throughout the New Year. God bless you, and every happiness for the coming year with health in abundance above all else. — From Johnnie, Margaret, Pat, Julie and Gerard.