Letters 2005 – 2006

 
 
 
Mullaghgloss, Renvyle
County Galway
Jan. 18th, 2005
Dear Jürgen and Hildegard –
        Thank you for your Christmas greetings. I hope you had an enjoyable time at Christmas, and I wish you both every happiness and good health in this new year. I wasn't well over the Christmas. Margaret, Gerard and myself went to Pat and Julie for Xmas dinner, and the New Year day to Frank and Rose. Then another night to Tim and Carmel. So I'm glad it's all over.
The weather was very bad at Christmas. The place was covered with snow, but there were gales and sleet. The pubs were very quiet because no-one could face out in the awful cold and storms.
Marian Coyne, Brian's wife, is making a recovery. I met her at a local wedding, and I was so glad to see her. Her hair had grown back, and she was in good humour. More people have died from cancer around the area. I hope the year ahead will be much better for everyone.
What was it like, Jürgen, when you went up North? You must have had some snow up there. Snow is nice at Xmas, as I could well remember long ago, but now it is raining down hail-stones and it is so cold. We want feel time passing until June when everything is better and we can have you to visit us and chat.
So, once more, thank you so much for your greetings. God bless from all of us. — Johnnie.


 
Mullaghgloss, Renvyle
County Galway
March 7th, 2005
Hello! Jürgen and Hildegard –
        I hope you both are well and keeping worm in this Artic weather. I have never felt so cold in all my life. For two hours this morning the sun came out and it was lovely and warm, but the forecast for the remainder of the week is miserable. I see you have bad weather in Germany too, it's bad all over, I guess.
For the past months I was not well at all, but yesterday and to-day I fell great. I haven't been called for the operation so far, but they are very busy in there I hear. Margaret is the same as you saw her last, and all the family are well.
I hear Kieran is going to Spain with Casey very soon, they still play in Patrick Sammon's. The pubs are doing very bad now. Drink is too dear, and in these cold frosty nights no-one likes going out to smoke. Going out now is too expensive.
Brian Coyne's wife Marion don't have to get anymore chemotherapy for the next 3 months, so that's good news. Frank and Rose came to visit us this evening, and Patrick came too later on. We never are alone for very long. The family are very good for us, especially the girls. When you get old one do really appreciate them calling around.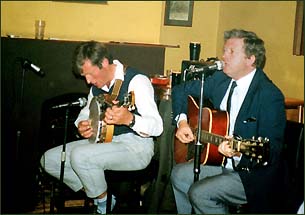 Could you make this picture of Tony Guerin a little bigger? I would say you should know Tony. He often played with Kieran and Frank in the Angler's Rest. He is a lovely singer, I hope you will hear him this year.
June won't be long coming when you will be back to Tully Cross again. I'm not forgetting those crab claws, and I'm looking forward to when you can enjoy them.
This is all for now, Hildegard and Jürgen. Take good care, and I hope you are enjoying good health. See you in June with the help of God. — Best wishes from Johnnie, Margaret and Gerard. God bless.


 
Mullaghgloss, Renvyle
County Galway
May 31st, 2005
Hello Jürgen + Hildegard –
        Sorry thinks have gone this way. I have been very ill and was five weeks in hospital. I'm still very sick, to sick to write anymore.
When you come to Tully Cross next week and have rested up, do call down for a visit and I will tell you all. — God bless. Yours Johnnie.


 
Mullaghgloss, Renvyle
County Galway
July 22nd, 2005
Hello Jürgen and Hildegard –
        Thank you for the DVD of the Film Waking Ned with David Kelly. I enjoyed it indeed! I don't feel well to-day or any day. I was back to the doctor yesterday, and she told me that it was the tablets I'm taking for the heart that is making me feel so sick, but I must keep taking them to keep the blood thin.
I see your weather in Germany is very good. Our weather is not so good at the moment, but there are a few fine days coming soon the chart says.
So everything is most the same here as you left. Do you remember the girls playing fiddle when you dropped in? They went on with their parents to Miltown Malbay in Clare for the Willie Clancy Week. I got a card from there saying they were enjoying it very much. Musicians from all over the world gathered there to honour Willie Clancy the great piper. The two girls played their fiddles, and they were thrilled with their holiday.
Thank you again for the DVD. Margaret is much the same, Arthritis is very painful. So until next time God bless you both.
Take care, best wishes — Johnnie + Margaret


 
Mullaghgloss, Renvyle
County Galway
November 11th 2005
Dear Jürgen and Hildegard –
        Thank you for your birthday wishes and letter. To-day, Friday, is the day when most of the world came to a stand-still for 3 minutes 85 years ago. Not because I was born, it was the anniversary of the armistice of the 1914–18 war. The war to end all wars – and there never was more than now.
I am glad you both are well. We here are fairly good. I have made a remarkable recovery. I'm eating well and sleeping well, and the shake in my hand is improving too. I'm thankful to God for taking me out of my misery and pain. I have a wonderful family, there was never a day without a call and visit.
To-day is a sad day too for me. My comrade and life-long friend will be buried to-morrow. We shared the one name, we started school together and joined the army the same day. We had been loyal friends. There was only a couple of months difference in our ages.
I hope, Jürgen, you will be able to read this and understand it. It's the best I could do this time. I wish you the best and above all good health.
God bless, take care, much love from all of us. — Johnnie, Margaret & Gerard.


 
Mullaghgloss, Renvyle
County Galway
November 17th 2005
Dear Jürgen and Hildegard –
        Congratulation on the election of your Lady Chancellor – a woman as leader could be good for a country.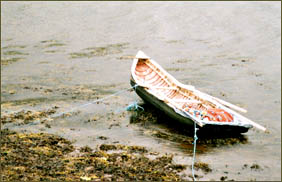 I was given the enclosed picture of a curragh I built myself, it was my first and last. Everyone said she was a beauty, and she was very save and good to handle. My brother Mark has her yet, and one of his children gave me the picture. Here she lies on the shore near Leenaun while her crew of three have a tea-break. I would be grateful if you could make a few copies. Kieran, Frank and Jeannie would love to have one, and I would like to frame a copy and hang it up somewhere.
I feel a little better every day. I am very happy to feel so good at the moment, thank God.
The postal strike is over now, and all is well again for Christmas. Margaret has a cold and a nasty cough. I'm trying to do what I can, she cared for me when I was down and out. I feel like a hermit, it's so long since I have been out. I must start by going to mass first.
You will be fed up reading all this. I am glad my hand don't shake too much now, but I have to write much slower. I have no more to tell you for this time. I will not be sorry to see the end of 2005 because I was sick for the most of it.
So good luck, and I hope all is well with you both. Thank you again for your letter. — Johnnie and Margaret.


 
 
 
Mullaghgloss, Renvyle
County Galway
December 2005
Dear Jürgen + Hildegard –
        Good morning to you both on this fine and sunny morning. The sun is shining lovely. There is a sting of frost in the air, but thank God there is no rain. If we can have this kind of weather for Xmas it would be great.
I'm slowly making a recovery. Thank God, but it is hard to shake off the effects of that M.R.S.A. bug, it gets at every organ of the body. I'm slowly learning to write again, but the walk is still wobbly. Hopefully I will be much improved when you come in June and we can chat over a cup of tea and, of course, some fresh crab claws.
There is no news from here, the pubs are very quiet except for Sunday nights. All our family are well, thank God, except Margaret who is getting worse with the pain in her knees. She is going to Galway to-morrow to see a doctor who treats arthritis. He is very expensive and it only lasts for three months.
So, this is all, Jürgen, for now. God bless you both, this day is like summer. Best wishes from Johnnie, Margaret and Gerard.


 
 
 
Mullaghgloss, Renvyle
County Galway
March 1st 2006
Hello Jürgen and Hildegard –
        I hope you both are as well as we are here. I have made a good recovery since the new year came in. I went out one night with a friend and I enjoyed it, but the next day I was bad again for a few days.
Pat and Julie's baby was baptized last Sunday evening at 5 pm. There was over a 100 people there and more than half of those came from Kerry. That is where Julie's mother is from, and uncles and aunts galore including her old grandmother. It was a great day. The priest who had married Pat and Julie came a long way to baptize the baby. Pat was hoping all along that I would be well enough to come to the church, and so I did and went back to Sammon's afterwards where there was food and dancing. I played 3 reels for the step dancers (badly). All my old friends came to greet me, missing me so long.
I have seen and heard your Lady Chancellor on T.V. It's nice to see woman leaders, and our new Pope is a German too and seems to be very nice. I hope he will reign long with a good health.
To-day is a beautiful day and the sun is warm. I hope the deadly bird flu won't travel further west. It's a very bad bug according the news. Margaret is after coming in from the clothes line, and she says it's starting to drop rain and a few big hailstones. The night is promised to be a very cold one, so I will get some turf and logs in before the night falls. Even though it's cold, Jürgen, plants and hedges are beginning to sprout and the signs of spring are in the air. June is fast approaching, St. Patrick's Day is only around the corner. I am really grateful to you both for doing the pictures for me [see: Nov. 17th 2005]. I divided them around among the family. I wish there was something I could do for you from Ireland, you would only have to ask.
Do you remember Séamus Nee who is married to Jeannie? His brother Martin died this morning in Clifden Hospital. He had cancer, but finally he died from a massive heart attack. I hope I will be able to attend Martin's funeral; if the day is fine I'd be ok. My immune system is how so low that I'm open to any bug that is around. I thought it would be Martin who would be attending my funeral, but now it's the other way round.
So, Jürgen and Hildegard, this is it for now, and I say slán agus beannacht libh.