Editor's Note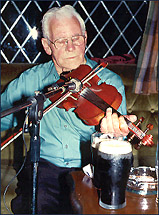 t was in 1994 when we first met Johnnie Coyne. About 10 o'clock me and my girl entered Kevin Barry's Central Bar in Clifden, 15 miles away from Renvyle Peninsula where we stayed. Two musicians in a corner, an old fiddler, and a guitar player and singer: Johnnie Coyne from Mullaghgloss, 74 years old then, and his son Kieran.
Mullaghgloss is a townland on Renvyle Peninsula in the Northwest of Connemara. Beyond the Twelve Bens, the people say, or 50 miles from Galway and a million miles from the rest of the world. The Coynes have been living there for centuries. You can find them in James Barry's (1842–1914) Tales of the West of Ireland, for example, being friends with the renowned smuggler George O'Malley.
Visiting Renvyle every June we made friends with Johnnie, and driving home together from Clifden to Renvyle through the nights he told us a lot of stories about his life and the place where he grew up. And one day his sons Kieran and Frank revealed that their father was fond of writing. "What about writing down your memoirs?" we asked Johnnie. He promised to think about it.
Throughout the years we exchanged many letters, and one day Johnnie delivered the 'first chapters' of his memoirs. But the Man from Mullaghgloss didn't continue his writing and passed away on January 4th 2007, 86 years old and survived by his wife Margaret and twelve children.
And here they are, Johnnie's childhood memories enhanced by a selection of his letters from Mullaghgloss. We never will forget him.
Jürgen Kullmann