My Mother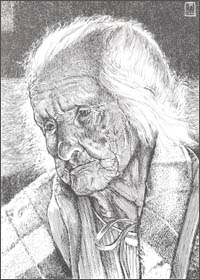 Johnnie's mother Lena Coyne

y mother was 97 when she died. She was jailed at the age of 16 for her part in the land agitation when she beat up the Land-Lord's agent. Even though he fired three Revolver shoots at very close range at her, she had his arms pinned to the ground and the bullets went out over her shoulders.
She remembers being very sick from gun smoke and vomited down on top of him.
In those days and until 1927 the train ran from Galway to Clifden, and the evening she was released from Galway Jail where the Cathedral now stands a great crowd of men, boys and girls headed by the Renvyle Fife and Drum Band met her there, and she was carried shoulder high three miles along the road.
There were some lonely songs composed about my mother, but they are no longer being sung now. The families of those involved at that time may be hurt at some things mentioned in them songs. My mother was a great accordion player in her days and so was my father, and I guess that is one reason why it passed on to my sons Kieran and Frank.
All her life she was a wonderful woman, a great Irishwoman, and she knew no fear, not even of the Black and Tans. After some time she went to Scotland where she joined my father who had to flee Ireland. He was on the run. They married in Scotland and I am the end product.
That's a tiny bit of the local history of that time. I was born in Glasgow in November 1920. In 1923 my family moved back to Ireland, first my father and three weeks later my mother with myself and the baby. It was a nightmare. The dogs of the civil war raged in Ireland. It was the saddest time in our history where one Irishman shot his fellow Irishman and sometimes men that fought the common enemy to-gether.
We landed in Ballina, Co Mayo, and continued our travel by a pony trap. No bridge where a bridge should have been, and my mother with her two little children. But she was a brave woman and brought us save to Mullaghgloss.